Hotel expense itemization error
When I try to itemize my expense and save it, I receive this error: Before you can continue, you must provide valid information for: Date Range. The dates in Details page are correct, as in the receipt.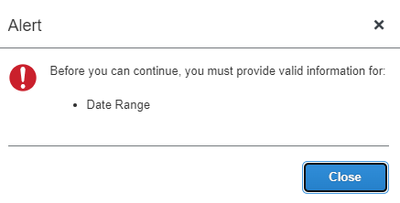 1 Solution
Solution

What we see that the issue is happening when we use the "Recurring Itemization" . So we suggested to go with the Single itemization by updating the Check-in Date in the date field and save the entry. Once done, then select the entry and copy the same until the total Itemized about is set to Zero. So with this there will be entry created for each day between the Check-in & Check-out date.