Hotel Paid w/ Company Amex - Marked as "CASH" - Cannot Mark as Personal
Hello,
We are having a recurring issue with several employees where a hotel or airfare transaction is charged to the company Amex card but is auto populated into Concur as a "Cash" transaction. The "Personal expense, do not reimburse" box is not shown on these transactions or is grayed out.
So Concur wants to reimburse the employee for the transaction even though it was charged to the company Amex card and there is no way that we can find to change it.
Our workaround is to manually create a duplicate transaction with the same amount but negative.
Has anyone had this problem and figured out a way to fix it? I have included a screen shot for reference.
FYI: Some of these transactions may be from people other than the employee in question arranging the travel for them and / or the travel is being purchased directly through Concur.
Thank you in advance for any help you can provide!!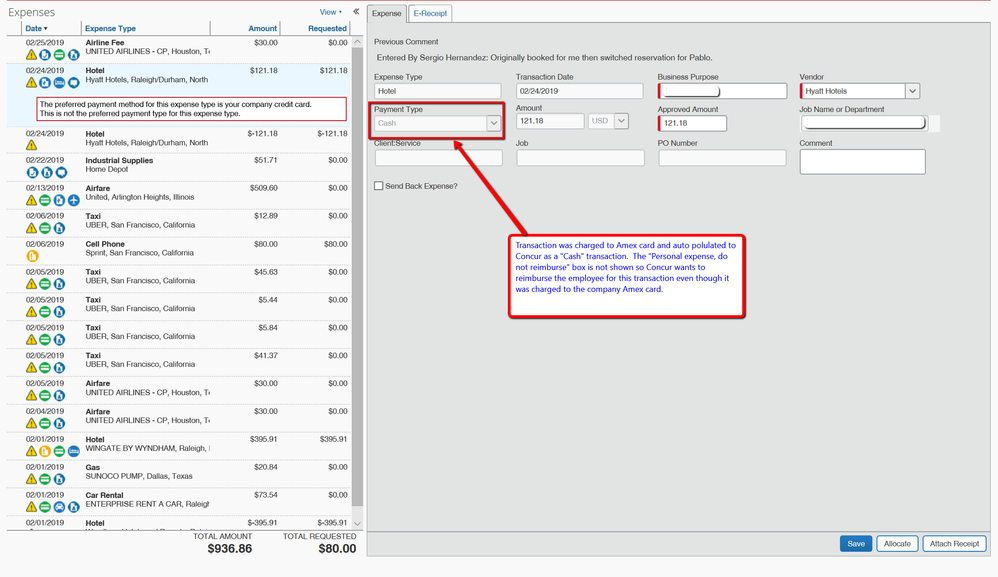 3 Replies
Re: Hotel Paid w/ Company Amex - Marked as "CASH" - Cannot Mark as Personal
This is a common issue. The employee reconciled an e-receipt without including the card transaction. You should have 2 options-
1. Wait for the card transaction to show up and match it with this e-receipt so it will show as Corp Card payment type.
2. Delete the e-receipt and don't submit anything - in the case that the trx is with another employee or you just don't need this e-receipt.
Sandra Ahola
T-Mobile
Senior Analyst Travel, Card & Expense
US
https://www.linkedin.com/in/sandra-ahola-4704553/
Re: Hotel Paid w/ Company Amex - Marked as "CASH" - Cannot Mark as Personal
Hi Sandra,
Thank you for the response! In this case, the employee did receonsile the transaction that was auto-populated into concur (The e-receipt was already attached to the transaction). And this is happening whether a receipt is attached or not.
On a separate note, there are other hotel transactions that are listed as "Amex" (not "Cash), that Concur wants to reimburse the employee for even though it was a company card transaction. In both cases, we cannot find a way to change the billing to the card. The only way we've found to resolve is to create that 2nd duplicate entry with a negative dollar amount.
Thank you!
Nate
Re: Hotel Paid w/ Company Amex - Marked as "CASH" - Cannot Mark as Personal
Sandra is correct. If you notice in the screenshot most of the other expenses have the green AMEX icon. The one you highlighted does not. What you are seeing is the e-receipt and hotel itinerary item. These default to cash unless they get matched to the card charge. So, the employee needs to let those items sit in Available Expenses until the card charge comes in and matches. That is the only way you can get the payment type to change.
I don't know how you are set up, but employees should not receive reimbursements for AMEX charges. They submit those and then a payment is sent to AMEX to pay off that individual's statement or maybe you are paying the entire statement received from AMEX. However, if you are setup where your AMEX cards are Individual Billed/Individual Paid, then the employee would receive funds to pay off their AMEX card. It's difficult to answer/provide help not knowing how your system is setup. However, it appears you want employees to pay for Hotel on the AMEX card, if that is the case, they need to make sure the AMEX charge has come into Available Expenses. The green icon is the most important. :-)
Thanks,
Kevin Dorsey
SAP Concur Sr. Training Consultant
Did this response answer your question?
Be sure to select "Accept as Solution" so your fellow community members can be helped by it as well.