Horizon theme - can no longer create a mileage expense on Android app
The latest update to the Concur mobile app with the 'Horizon' theme has begun to roll out to our users. Concur originally advised us that the changes were visual and that functionality would not change, however we've identified today that in least two areas this is not the case.
On the Android application specifically, there is no longer an option to manually create a mileage expense. Prior to the Horizon update, users could click 'Mileage' and then 'Enter Manually' to do this:

However in the new version of the app this option is not present (menu is from the '+' icon on the Expenses tab):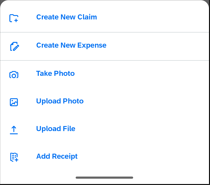 In the above, 'Create New Expense' is for any expense other than mileage – on the iOS app this is addressed by having one option for mileage, and one for manual expenses:
We are aware that users can workaround this issue by opening a claim first and adding an expense to it, however this still represents a significant change in functionality for us which was not anticipated as part of this visual update, and therefore has not been communicated and is currently causing our users much confusion.
We have also separately noticed that when creating a 'Manual Expense' (i.e. not mileage) the default currency shown on that screen only is in USD rather than our default GBP. This was not the case on the previous app version and so not related to user / company settings. Both the iOS and Android applications are facing this issue.
I understand the app went through a testing period with other customers for over a month before rolling out more widely, I'd have hoped this would have been picked up as a part of that process.