Hi All
I need help am getting the below error not sure how to correct this error it says FBT Configuration needed how do I do this I am the administrator? See error below

Also how can I see all the expenses that relate to FBT? Any help will be greatly appreciated.
@matilda77 you are an administrator. The FBT setup screen is pictured below. I believe for the expense types that include attendees, each attendee type should have a FBT Account Code. We don't have FBT here in the U.S., so this isn't my area of expertise, but I believe there are items in use from the FBT setup screen that do not have an FBT Account Code.
The screenshot below is not the entire list of expense types, but just a sample of the screen you will see. If you weren't involved with the setup of SAP Concur, then you should work with the person at your company who did.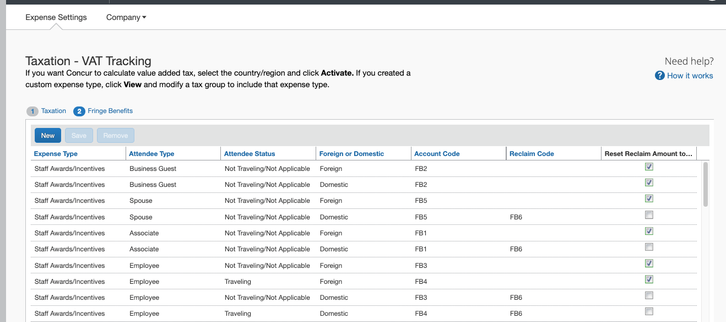 Thank you,
Kevin Dorsey
SAP Concur Community Manager
Did this response answer your question? Be sure to select "Accept as Solution" so your fellow community members can be helped by it as well.