Expensing airfare separate from a trip
Per travel policy, we're required to submit airfare expenses if they are purchased over 2 weeks in advance. I tried to expense my tickets to upcoming travel and I get the error "You have created a Travel Allowance Itinerary, but do not have any per diem related expenses. Please select Delete Travel Allowance from the Travel Allowance drop down. This error will not disappear until you delete or add a necessary hotel/meal and resubmit.". I haven't traveled yet, however it's a longer than usual trip and I need to get the tickets reimbursed to my corporate card. How do I submit an expense report for airfare alone in this case
@m312637 when you created the expense report, did you select the option to claim Travel Allowances? See my screenshot. If so, I would delete the report and start over. Do not select the option to have travel allowances. Without seeing your actual report, I am taking an educated guess here.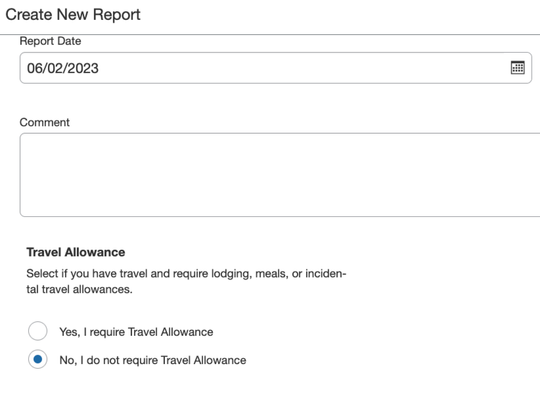 Thank you,
Kevin Dorsey
SAP Concur Community Manager
Did this response answer your question? Be sure to select "Accept as Solution" so your fellow community members can be helped by it as well.
worked swimmingly, thank you. Also had to select no per diem for that day etc