Hi
We are using your Standard/Best Practice platform. I have a member of staff who submitted their December 21 credit card expenses today and the 'expense claim pending approval' email went to a member of staff who is not a PI not a manager and is not an employee in our parent company, is there any reason for this?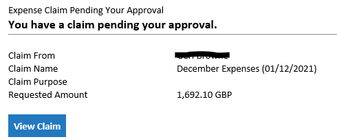 I can't find any routing info to see if his name appears anywhere in the approval process. I have checked each project on the allocation summary and he is not set as a PI. The timeline and audit trail do not help either.
Would welcome any thoughts
Cheers
Sam
@Samfarrell could you please send me the first and last name of the employee who submitted the report and the first and last name of the person who received the approval email?
Sending the names in a private message is probably best. Click my username (KevinD). You'll see a Message button.

Thank you,
Kevin Dorsey
SAP Concur Community Manager
Did this response answer your question? Be sure to select "Accept as Solution" so your fellow community members can be helped by it as well.