Error message when importing a list of attendees into concur built using provided template
Hi Everyone,
I am importing an Excel file of around 60 attendees, I need this to be able to submit a report. I believe I have configured the template correctly but not sure @(potentially that could be the problem). The data shows its been imported but the second row before completing the import stage shows a red error mark with the following error - ExpenseJS.Exception_INVALIDLISTITEM
All the people to import are external business guests.
Here is a screen shot of the error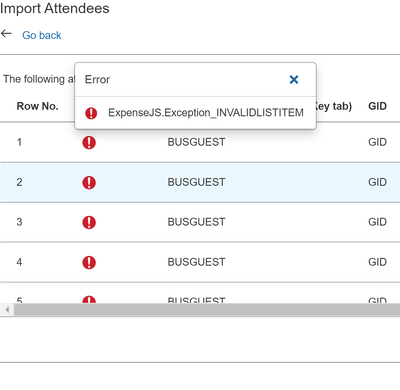 Please help.
5 Solutions
Solution
dlamont

Super User
Hi sukhsran,
Leave all headings (2 rows) on the tab and add your attendees on the rows below.
Make sure all Attendee Types in the first column match a value from list from the tab "AtnTypeKey". I would suggest copying and pasting the value(s) to the rows.
Save the file to your computer as .xls don't convert to .xlsx.
Make sure all entries have a value in each column (5 columns).
This should work for you.
DLamont
OK - Great, Going to try this out now and thanks for showing what a succesful xls upload. Do I need to delete all other tabs from the excel file? Also Do I need to keep all the colums in the template or can one column be deleted?
Hi DLamont,
Sadly - getting the same problem as before, I confirmed that the steps I took were exactly as you described above.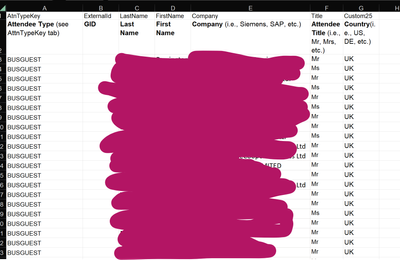 Here is a copy of what my excel file looks like if that helps?
I tried a few things and played and deleted columns and did a bit of troubleshooting and it has now worked! thanks