Error 500 - Sorry, something went wrong
I am receiving an Error 500 message when logging into Concur and cannot access my expense reports. I've looked through the community forums and tried various solutions that worked for others but I have not found anything that works for me yet.
I've tried the following:
Tried logging in on both Chrome and Microsoft Edge.
Cleared all cookies on all browsers.
had our concur admin change my password.
tried to login utilizing the following websites:

concursolutions.com
us.concursolutions.com
us2.concursolutions.com
eu.concursolutions.com
eu2.concursolutions.com
app2.outtask.com
***on all these websites I either get the same error or it doesn't accept my password.***
I recently had to get a new PCARD and shortly after my Concur account started acting up (not sure if cause or coincidence).
When I log into concursolutions.com I receive the following screen.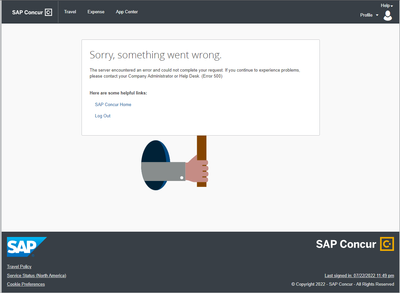 Clicking refresh doesn't do anything and when I click on the expense tab I get the following popup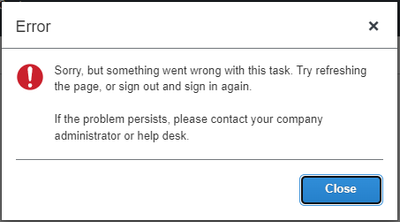 Any help with this issue would be greatly appreciated.