Error 500 -Internal Server Error when moving charges in Concur - Help
Having the following error below in the iPhone Concur app (using LTE or WiFi connection):
We click a charge in the report or move a charge with the attached receipt to a report, we get the 500 error message - see image below.
We then have to close out the app and reopen it.
After reopening the Concur app, the charge has moved to the report.
This happens for 20+ users on every charge touch in the app.
We've tried clearing the app cache and reloading the app.
Support just keeps saying R&D is looking into it for the past 3 months - help!!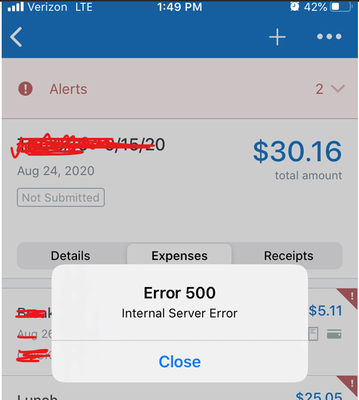 Hi @Gazoo ,
Good day!
If you can kindly email me a sample User login ID so i can try to check logs from that 5oo internal server error?
Also, if you can kindly test and create a quick expense from the home screen by tapping the (+) sign to check if you also get the same error?
Please advise
AnnaDizo
Anna, i"m having the same issue. My user name is 00000668949@UTC. I can't use the expense tool at all. I've deleted and re-installed the app.
my contact is mike.mastergeorge@collins.com.
thasnk
Mike