Entering a new report for mileage from a laptop
When I try to create a new report from the expense tab, I don't see an option to create a new report. I read when on a mobile device there would be a + sign in upper right or left corners of the screen, but there are none on my laptop screen.
How can I do these process from my laptop?
Thank you,
Joan
Hi @Brucej1
Seems that you are trying to create an Expense Report in Concur Web.
Go to Expense tab
At the upper left part you will se create new report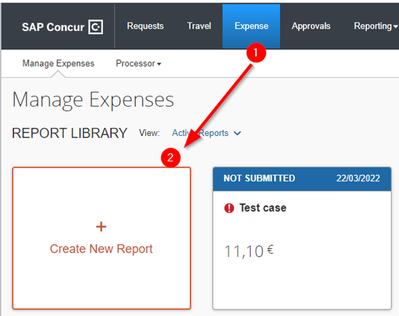 For expense trainings check this https://www.concurtraining.com/toolkit/en/expense/end-user/ui02
Hope it helps.
@Brucej1 if you are still having the issue, can you please provide me a screenshot of what you are seeing or not seeing, please?

Thank you,
Kevin Dorsey
SAP Concur Community Manager
Did this response answer your question? Be sure to select "Accept as Solution" so your fellow community members can be helped by it as well.