Drag & Drop Receipts to Concur
Hi All,
Desktop users querying whether it is possible to allow drag and drop option to import receipts from local drive.
Appreciate your insight.
Kind Regards
Nalin
@nalidissa Not in our NextGen UI. If you open an expense report and screenshot it, I can tell you for sure. If you are by chance on our Legacy UI, drag and drop is available.

Thank you,
Kevin Dorsey
SAP Concur Community Manager
Did this response answer your question? Be sure to select "Accept as Solution" so your fellow community members can be helped by it as well.
HI Kevin,
Thank you for the response. Please find the screenshots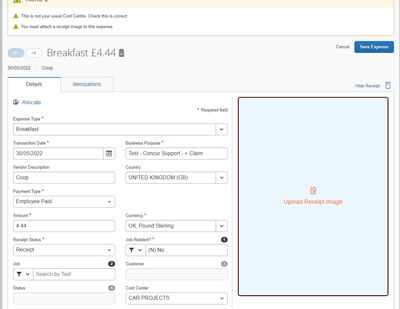 EdwinaM
Occasional Member - Level 2
This is unfortunately a case of Drag N Drop functionality being available in Old UI, but not in New UI. I don't know why Concur would remove the functionality. It is one of the major feedback points as to why we have delayed moving to new UI. Concur - please bring it back in new UI!