Hello! We have a department that is constantly changing delegates on managers due to roles changing around. Is there a way to give someone access to just change delegates for a team of users?
Hello,
An administrator can also assign delegates to users if they have the Employee Maintenance or Employee Administrator role. If you have a large number of delegates to import a 550 import can be used.
@JoyS in addition to what @HS70 said, there is a way to only allow an admin to add delegates. I've provided a screenshot below. In the section that is labeled Delegate Settings For User Administrators and Employees, you could simply uncheck all the boxes in the Employee Column. However, this does turn it off for everyone in that Group. Just letting you know it is an option though.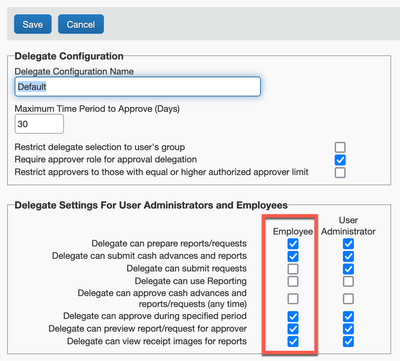 Thank you,
Kevin Dorsey
SAP Concur Community Manager
Did this response answer your question? Be sure to select "Accept as Solution" so your fellow community members can be helped by it as well.