Credit Card Transactions without Employe ID
Hi I need your Help. First I will tell you what happened:
1) A Credit Card Number was assigned for mistake to another Employe. So some expenses have impacted in other Employe Profile, but their statment are "Potential Duplicate"

2) Then I have unassigned the credit card for wrong Employe Profile;
3) Later I have wanted assigne the credit card for the correct Employe Profile, but appeared this message:

"The account number entered has already been added. Choose another account number.".
My opinion is that the reason for this message is the credit card charges without an assigned Empliye ID due to having previously unassigned the card.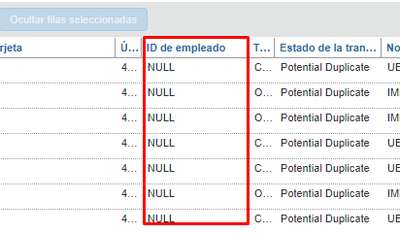 How Can I fixed this issue?
Thnaks.
Best!!!!
1 Solution
Solution


KevinD
Community Manager
@Pablo I've sent you a private message. Hopefully you can reply to it.
By the way, how many private messages have you sent here on the Community? I want to see if the message you received about reaching the limit of private messages is due to a setting that limits the number of private messages sent or if it is something else causing you to receive that message.

Thank you,
Kevin Dorsey
SAP Concur Community Manager
Did this response answer your question? Be sure to select "Accept as Solution" so your fellow community members can be helped by it as well.