Conflicting messages on hotel itemization
I have attempted to put in an hotel expense into a report and am getting conflicting messages from Concur about it.
When I tried to put in the expense with the relevant itemizations (hotel room cost, taxes, etc.), I get an error message that says "This expense type is not available to use in an itemized entry. Please change the expense type" as well as "This itemized entry has sub-entries with one or more exceptions." When I try to just put in the receipt without itemizing everything, I get a message that says "Itemizations are required for this entry."
Any suggestions to mitigate these issues? My intent is to itemize everything like I normally do, but that has not worked
1 Solution
Solution


KevinD
Community Manager
@JordanHill1447 My screenshot is for itemizing the hotel. You need to create a hotel expense, enter check in/check out dates, Amount, etc. Once you save, you will see a message that you are required to itemize. Click Yes. When you start the itemizing, you will then see Hotel - Room as an option to enter in the nightly amounts. The expense type Hotel - Room is only available for an itemization.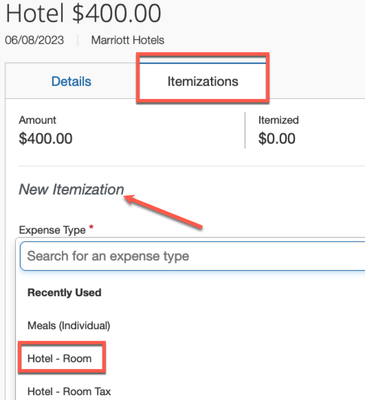 Thank you,
Kevin Dorsey
SAP Concur Community Manager
Did this response answer your question? Be sure to select "Accept as Solution" so your fellow community members can be helped by it as well.