"Concur" Tax Code vanished from NetSuite expense reports after Dec 2021
We integrated Concur with NetSuite about 2 years ago. It worked perfectly until Dec 2021. Prior to Dec 2021, Concur was able to populate "Concur" Tax Code for employee expense reports in NetSuite. After Dec2 021, something changed and all of our claims started getting an error that a tax code is required. Please refer to the two expense claims below:
Claim 1 below is from September 2021. It was integrating properly. You can see "Concur" was correctly presented in Tax Code column;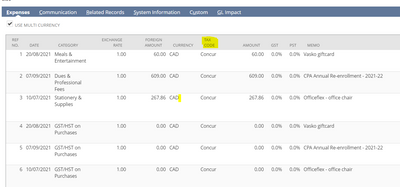 Claim 2 had issues and Concur Support Team had to manually push through. When concur pushed this through using one of our existing zero tax codes, then this line got added the GST line and we had to manually remove it. It caused lot of work. Unfortunately I cannot post the screenshot for Claim 2 but you can large imagine from Claim one.
On our side, no system configuration change from our end. I checked the NetSuite new release came out around December but did not see anything suspicious. Have anyone in the community experienced the same issue?
Thanks,
Chee