Cell Phone usage Reimbursement
HI,
I have personal phone which I use for business also ( I do not want to carry 2 phones 😀).
To get Cell Phone Reimbursement, what category should I select for 'Expense Type' dropdown for monthly Cell phone reimbursement? I do not see a specific category to select for 'Cell Phone usage Reimbursement'.
Please advise. Thanks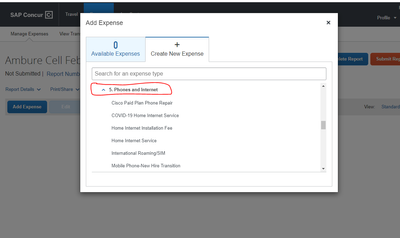 @KevinD > Thanks in advance.
@sambure I looked at your expense report and read the comment posted by your GEMS team. It appears you are not allowed to submit for mobile phone usage. I've pasted the comment below for your reference.


Thank you,
Kevin Dorsey
SAP Concur Community Manager
Did this response answer your question? Be sure to select "Accept as Solution" so your fellow community members can be helped by it as well.