Cash advance (request, issue, posting) process overview from Concur and Finance perspective
Hi all!,
I just wanted to share some document i have made for a client recently from my practical point of view, to understand a little bit better the cash advance process within Concur Expense, of course is always better to take a look first at the Concur Expense Professional Edition Administration Help http://www.concurtraining.com/customers/tech_pubs/_Docs_CCC.htm .
It all came up when employees submitted the cash advance request, but the posting in finance failed (for example Vendor ID missing), so the employees did not receive the money but did receive notifications from concur that they had a pending cash advance to attach to a report.
I hope this flow chart helps: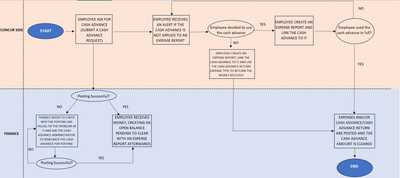 Any thoughts about this @KevinD ? 😊
@grodriguezproje Overall a pretty good graphic. If I was to make a suggestion, I would say that where it says, "Employee Used the Cash Advance In Full?" you have it pointing back to the box stating the system alerts the user that they have a cash advance not applied to a report. However, the Cash Advance is applied to a report, they just didn't use the entire amount, so they would use the Cash Advance Return expense type to account for the unused portion. Your flow could be interpreted as if they didn't use the entire cash advance, they would need to go back and create a new report to submit the cash advance return. However, that isn't the case.
Also, some companies use the Cash Advance Carry Forward option, so any unused portion would appear on their next expense report showing the remaining balance of the cash advance. The total of the cash advance will clear (from the user's end) once they have submitted enough out of pocket expenses to cover the total. This could take one expense report to clear or several reports.
I hope this helps. 🙂

Thank you,
Kevin Dorsey
SAP Concur Community Manager
Did this response answer your question? Be sure to select "Accept as Solution" so your fellow community members can be helped by it as well.