Business Credit Cards Defaulting to Out of Pocket
I believe when our Concur account was first set up two years ago, user profiles were associated with a personal credit card rather than a business card. I'm not sure why as I was not working there at that time but they have always been business cards. Our Chase business cards are linked with Concur through Yodlee. I'm not sure if this is something with the new UI but now, all of our business credit card expenses are pulling in as out of pocket expenses even though we have a business card program set up and these are very obviously business card charges. Our employees don't use their personal credit cards for anything, ever. Concur support is telling me that the system is designed to default to cash or out of pocket because they are associated with personal credit cards. THEY ARE NOT PERSONAL CREDIT CARDS. Is there anyway to fix this?? The solution I was given by support is to just have the employees change the payment type in their expense report. They are already fuming mad about this horrible new interface, now they are having to do more work to change the payment type. Please tell me there is a way to fix this??
@lalexander26 Business Cards by system design do default to personal if your site doesn't have the Company Paid Credit Card payment type available, which your site does not have it activated. You have the Company Paid payment type active, but that isn't the same. Here is an article that talks about this.
The credit card that is linked in the Personal Card defaults to Cash or Out-of-pocket payment type, because the system recognizes the transactions as personal expenses.
To prevent users from being reimbursed, the payment type for the expenses will need to be manually changed to
Company Paid Credit Card
for each transactions. If the Company Paid Credit Card is not an available option under the Payment Type field, you will need to activate the payment type.
To activate the
Company Paid Credit Card
payment type:
Go to

Administration

>

Expense Settings

> Payment Types > Edit
Change the

Active Accounts

to

All Accounts

or

Inactive Accounts

on the

Show:

filter located at the right side
Put a check on the Company Paid Credit Card

box
Click

Activate
Click

OK
Note:
The Company Paid payment type is not an available option for personal card transactions, but the Company Paid Credit Card is.
| | |
| --- | --- |
| Cause | If a user has to delete a Personal Card and then re-add it, the system will default to cash and will have to be trained again if the user wants another payment type to be selected automatically. |
| | |
| --- | --- |
| Additional Information | The system gets smarter over time and if you change the Payment Type for a particular vendor to "Company Paid Credit Card", the next time a transaction comes in from that card it will default to the payment type used before. This is learned on a per user basis and per card basis. |

Thank you,
Kevin Dorsey
SAP Concur Community Manager
Did this response answer your question? Be sure to select "Accept as Solution" so your fellow community members can be helped by it as well.
Kevin,
We have activated the Company Paid Credit Card program name but all of our expenses are still coming in as out of pocket. They are being synced with Chase through Yodlee. Any other suggestions??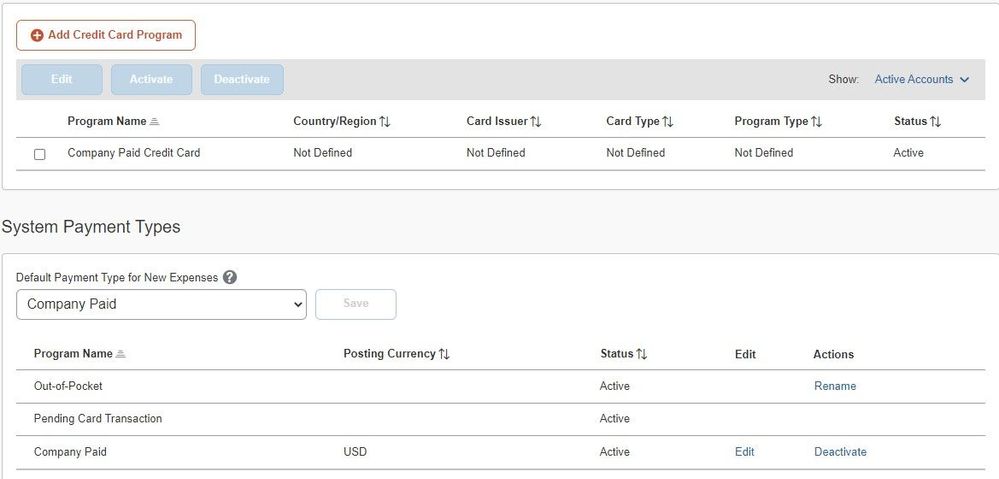 Kevin! My hero! After many calls and tickets to support you answered my question in less than a day. Amazing!! So I did go ahead and activate the company paid credit card account. Does that mean I need to "deactivate" Chase Southwest so my employees can only use the company paid credit card option?