TripIt pop-up: Your accounts are linked!
Hello,
How many more times do I need to see this? It keeps popping every 5-10s.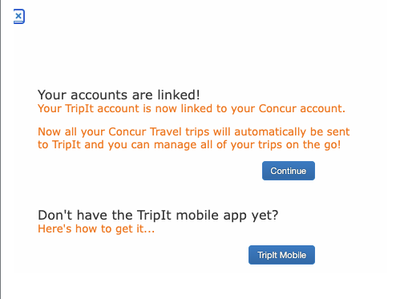 How can I remove this pop-up? It's really hard to do anything, while this keeps popping up...
@aeOm it is popping up no matter which SAP Concur screen you are on?

Do you click Continue or just x out of the pop up window?

Thank you,
Kevin Dorsey
SAP Concur Community Manager
Did this response answer your question? Be sure to select "Accept as Solution" so your fellow community members can be helped by it as well.