Every time I want to login Android App It's give me the information "Sorry, something went wrong.
We encountered an error processing your request. If the issue persists, please contact your Company Administrator or Help Desk with correlation_id 0239dce0-982f-40e6-9c41-c38d8be0e786-1 for additional help."
But I can login on iPhone. I don't know why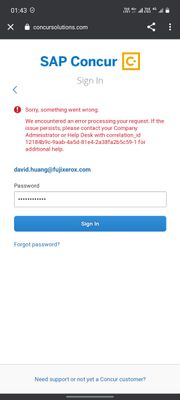 Did you try deleting the app and re-installing? Perhaps it was an older version that is no longer supported?
Jessica
Travel and Expense System Administrator