Bambora - email notification received after paid/projected payment date incorrect
Up to the point we moved over to Expense Pay - Golbal (Bambora) the notifications our claiments received for payments worked really well. Now are payments are being processed by Bambora the notifications confuse claiments as they are received after payment into their bank account is made and the projected payment date is incorrect. Example of the notification below, in this example I was paid on 14/12 received this email on 16/12 and the projected Payment Date says 15/12.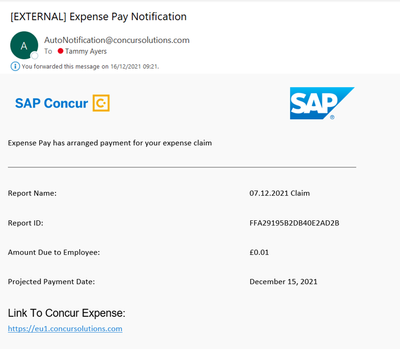 I have reported this to Concur and they have advised that the notifications are working correctly... are they really???
My Account Manager and Solution Consultant both agree that the notifications sent are confusing and not a great user experience. They are investigating this internally but are struggle to get anyone to agree to get this changed for us. It should also be noted that Concur employees in the UK are also experiencing the same issue.
If you are using Expense Pay - Golbal and would like the notifications to be updated so they work correctly please would you be able to let me know your name and company so I can pass on your details to my Account Manager?
Thank you very much for spending the time to read my post
Best Wishes
Tammy
Greene King Brewing & Retailing Ltd