How to Preview the SAP Fiori with Horizon Visual Theme on the Web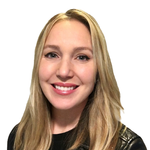 Kelsey Gordon
SAP Concur Employee
SAP Concur is adopting the SAP Fiori with Horizon visual theme family for all SAP Concur products, on the SAP Concur mobile app and on the web.
To preview the SAP Fiori with Horizon visual
theme on the web,
follow these instructions:
1.
First
, sign into SAP Concur solutions.
2.
Admins or users can navigate to the
Appearance Settings
page by adding the following to the SAP Concur
solutions base URL:
/Profile/AppearanceSettings.asp
If your entity is in the EU (EMEA) data
center, after signing into SAP Concur solutions, the URL you use
to navigate to the Appearance Settings page is:
3.
After navigating to
Appearance Settings
, click Enable Theme Preview. Select the desired theme
to preview
and then click
Apply Theme
. The
available themes are as follows:
c.
In addition to the Horizon themes, you can enable High Contras
t mode.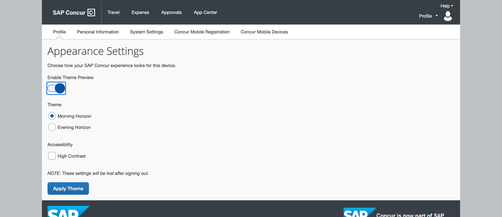 4.
After clicking
Apply Theme
, the chosen theme is applied to the SAP Concur user interface until you sign out of
SAP Concur solutions or until the theme is manually disabled.
You can also preview the SAP Fiori with Horizon theme in the following videos:
18 Comments
You must be a registered user to add a comment. If you've already registered, sign in. Otherwise, register and sign in.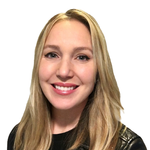 I joined SAP Concur in 2021 after 12 years in the travel industry. As a Global Customer Marketing team member, I'm focused on the customer experience and developing the necessary content and support for customers to succeed. When I'm not typing away at my desk, you can find me outdoors - running, SUP boarding, skiing, and exploring the many PNW islands. And like any true Seattle native, I love a good cup of coffee on a rainy day.