Customer Community Forums read/unread issue
Not sure where else to raise this, but the read/unread thread indicators on the Customer Community Forums are not working as I think they should.
Bold = Unread
Plain = Read
The problem I've noticed is that threads I have read retain their Read indicator even when they have had new posts since I last read them; they should revert to Unread status in that instance. This makes it difficult when reviewing the forums to know 'where I'm up to' as I can't identify which of the Read threads I've actually fully read.
@DeanR you bring up an interesting point. I'm fairly certain that the site by default only uses the original post as the Read/Unread indicator. I understand you might read a post, then come back to it later. For now, you can manually set a read post to unread by using the Mark Post as New option. I get that you might not either remember to do this or you just click off of the post. I can bring this up in our next team meeting.
However, as a site moderator, when I reply to a post, it helps me to keep the post as read. That's how I know where I am in answering people's questions. I rely on the original poster to use the @ sign so I will get a site notification that they replied to my response.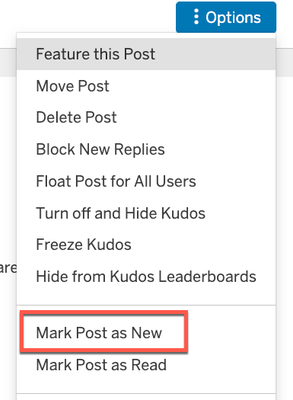 Thank you,
Kevin Dorsey
SAP Concur Community Manager
Did this response answer your question? Be sure to select "Accept as Solution" so your fellow community members can be helped by it as well.