Is there a report available to see if users traveled to a specific destination in the past?
Our company would like to see if anyone traveled to a specific location in the past. Does anyone know of a report that will show any travel expenses associated with a specific location/destination-flight, hotel, vehicle rental, etc.?
Thanks!
@ABurnett I hope you are doing well! Here are some Standard Reports in Cognos that might work. Team Content > Intelligence Standard Reports > Trips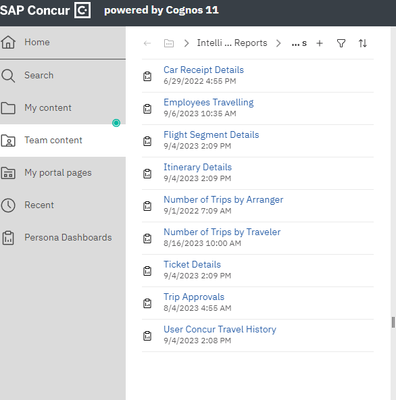 Remember to tag me if you respond or feel free to mark this post as Solved if you don't have further questions or comments. To tag me on your response, you click the Reply button, first thing to type is @. This should bring up the username of the person you are replying to.

Thank you,
Melanie Taufen
SAP Concur Community Moderator
Did this response answer your question? Be sure to select "Accept as Solution" so your fellow community members can be helped by it as well.