Booking multiple cities issue
I'm trying to book a flight for multiple cities, from DC to TN to NY. When choosing the multiple cities option, it's asking for a 4th location. How do I remove that section? NY is my last stop.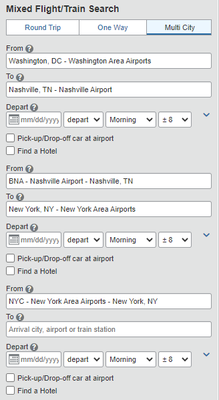 @ShawnCA I would just delete NY out of the last From field then do the search.

Thank you,
Kevin Dorsey
SAP Concur Community Manager
Did this response answer your question? Be sure to select "Accept as Solution" so your fellow community members can be helped by it as well.
Unfortunately, removing NY doesn't help. that extra section is still there: