WORKFLOW FOR INVOICE WITH APPROVAL LIMITS FOR APPROVERS
We are trying to set up a workflow that uses the invoice approval limits on the user account page. When an approver approves an invoice in excess of his/her $ limit the invoice should go to that employees manager. When setting up the rules i was able to figure out how to use Request>Is Limit Approved = "Yes", but the corresponding actions did not have a "Send to manger" it was just "skip step" etc.... I am going about this incorrectly?
Thanks
Aryeh
Has only one reached out to you about this issue?
No one from here, but i did have a call with a support tech and we finally figured out how to set it up.
@Aryeh2b I just looked at your workflow. I think there might be an easier way to go about the approvals.
If you use the Manager>Manager's Manager (up to 5 levels)>Processor workflow, you don't need all the custom workflow steps. To be honest, workflows can be tricky and it is very easy to make a small little mistake that stops or throws off the entire workflow.
The option highlighted below allows you to enter approval limits on all managers' profiles. If a user submits an Invoice that exceeds their limit, they will approve it and then it will escalate to that manager's manager, who should have a higher approval limit. If the manager's manager has a high enough limit, then the Invoice is approved and goes to the processor step. If it exceeds the manager's manager's limit, then it will go to the manager's manager's manager. It will do this until a manager with a high enough limit approves it.
This might be the easiest option to get invoices to escalate to a manager's manager.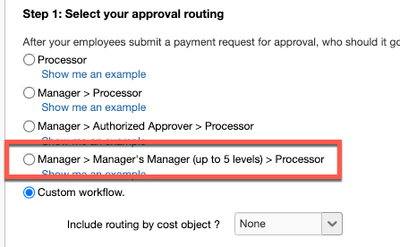 Thank you,
Kevin Dorsey
SAP Concur Community Manager
Did this response answer your question? Be sure to select "Accept as Solution" so your fellow community members can be helped by it as well.