duplicate expense after approval
Good afternoon , still receiving emails of pending expense , it appears to be a duplicate . is there a way of deleting.? I've already received approval on original request . Thanks for your suggestions
@v426199 hello there. I see a credit card transaction for Sacco Pizza in NY. You submitted this expense before the card transaction came into your SAP Concur profile. When you use your company card, you must wait for the transaction to appear. You'll be notified via email when the transaction is available. On the SAP Concur home page you will see a section labeled Available Expenses. That is where you will see your company card transactions. It usually takes about 3 days from the date of purchase for it to appear in SAP Concur. So, for future reference, when you use your company card, just wait a few days for the card transaction to upload into your SAP Concur account, then add it to your report. I've provided a screenshot below for you. The screenshot is the Manage Expenses screen that is accessed by clicking Expense at the top of the screen when you are logged into SAP Concur.
To get rid of this (because you will get emails about overdue card transactions) add the expense to a report. When you are filling out the details, you should see a little checkbox labeled Person Expense (do not reimburse). This tells the system not to provide funds for the expense since you already had an expense for this on a previous report. You will need to have other expenses on this report. Lastly, you will receive a reimbursement for the first expense report you submitted that has been approved. You will need to take that money and pay it directly to your company card.
Let me know if you have any questions.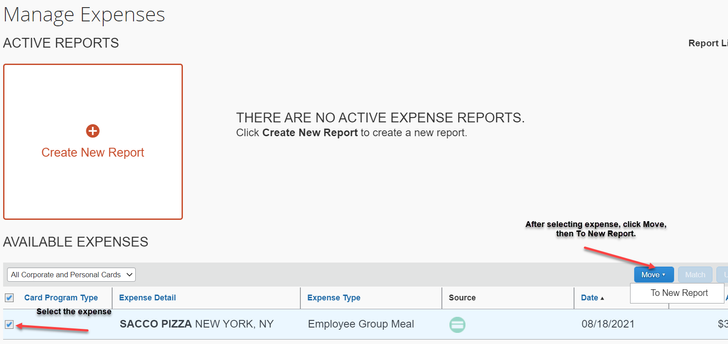 Thank you,
Kevin Dorsey
SAP Concur Community Manager
Did this response answer your question? Be sure to select "Accept as Solution" so your fellow community members can be helped by it as well.