Hi there, I have this issue using standard Concur, I'm on an HP Elitebook and using Chrome. Most receipts only display partially in the receipt image view on an individual expense for some reason, it almost looks like they stop loading midway. In view all receipts they are fully displaying and the workaround I use in the expense item view is to rotate the receipt image because only the top of the window loads. Here's a screenshot. Thank you!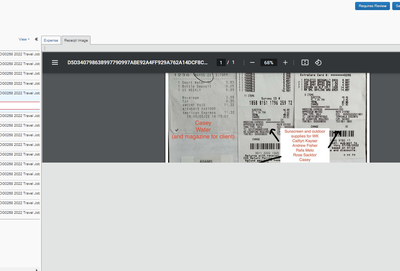 @slaperre maybe instead of combining three receipts into one, try attaching each individual receipt to the entry. You can attach multiple image files to one line item. Once you attach one receipt, start the process again. You will see a pop-up stating you already have a receipt attached, do you want to replace or append. Select Append to add a second image.

Thank you,
Kevin Dorsey
SAP Concur Community Manager
Did this response answer your question? Be sure to select "Accept as Solution" so your fellow community members can be helped by it as well.
Thanks for your response Kevin! I am the admin reviewing the reports, and the 3 receipts are just 1 jpeg but I am puzzled about why the image is only partially loading. Any insight about that issue? It happens on all our reports.