Matching reservation to expense

Hi,
Hope someone can help, the above message keeps coming up stating "to use the one-click feature in Cliqbook to create expense report or use the expense report comments" I do have a reservation book through concur and gotten a Cliqbook email on it but is not matching up with my expense. I can't find the one-click feature but did put a comment on my expense report and it's not working.
@JudyA yellow alerts are reminders/warnings only and do not prevent report submission.
The one-click being referenced is accessed by clicking Travel from the SAP Concur home screen. Click the Upcoming Trips tab. See screenshot below.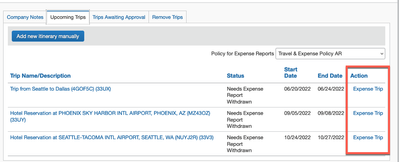 Thank you,
Kevin Dorsey
SAP Concur Community Manager
Did this response answer your question? Be sure to select "Accept as Solution" so your fellow community members can be helped by it as well.