Financial Reporting - Reporting 13
Hello SAP Concur Community,
I just joined a training on how to navigate the Business Intelligence platform through Reporting 13 but it only specialized in Expense. Unfortunately, we only want to focus on the below and want to learn how to navigate it. Is there a training on how to navigate the below screenshot options? We really need use this since we are currently creating our reports manually. For example, we want to know how to create a weekly report that shows all invoices processed for the week—by processor, by Customer, by $$... Other insights we need would be to understand due dates, categories of spend—components, marketing software, consultants, etc. Please help us! 😞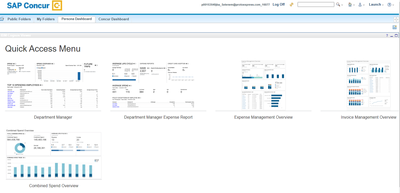 @Selene20 we don't offer any training on the Persona Dashboard, unfortunately. I will say that the advantage of building your own reports is you can have more liberty to get the data that you need. The dashboard is a good way to view general or high level data, but custom reports allows you to get more granular with the data.

Thank you,
Kevin Dorsey
SAP Concur Community Manager
Did this response answer your question? Be sure to select "Accept as Solution" so your fellow community members can be helped by it as well.