I am selecting an allocation from the drop down and adding. But when it goes back to the allocation page everything is blank. Is there something I am doing wrong where this would happen?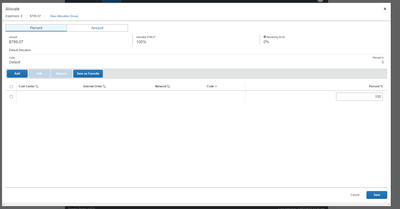 @raymondbryan it looks to me like you didn't select an expense entry item to allocate on your report before going to the Allocations screen.

Thank you,
Kevin Dorsey
SAP Concur Community Manager
Did this response answer your question? Be sure to select "Accept as Solution" so your fellow community members can be helped by it as well.
I did select one. That is why it brought the empty line that was not there before. I did the same process multiple times till it finally took. Took about 6/7 times before it finally showed up. I am hearing I am not the only one having this issue.