Adding a field with additional information to SAP Export
Hi,
i would like to improve the matching with the debit note of our creditcard and our SAP account.
Is it possible to transfer the information from the reference field of a credit card transaction in Concur to the posting on our SAP System. F.E. to the Reference1 field?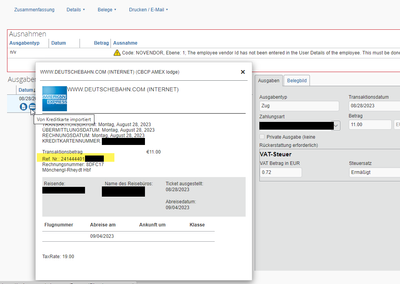 Thank you and kind regards.
Hello @UserIT7
If you check the JASON File in your SAP, you will find that the credit card reference is sent using tag <cardTransactionID>.
Check with your ABAP team to copy the credit card reference to any SAP field you want via BADIS.
Hope it helps.
@UserIT7 Thank you for the post. The cardTransactionID field is defined as the reference number from the credit card vendor with a maximum length of 32 characters. You can check your JSON file to determine if any updates to your BADIs are needed.
To get the JSON file information in SAP, please do the following:

1) Open your SAP System the financial document should be flowing to
2) Enter transaction CTE_SETUP>Financial Posting>Concur Documents (or access directly with tcode CTE_DOC_MONI)
3) Select the document you want to check by clicking on the beginning of the line
4) Click Display >Original File (JSON format)
5) You should now be able to see the JSON file.
Remember to tag me if you respond or feel free to mark this post as Solved if you don't have further questions or comments. To tag me on your response, you click the Reply button, first thing to type is @. This should bring up the username of the person you are replying to.

Thank you,
Lee-Anne Dautovic
SAP Concur Community Moderator
Did this response answer your question? Be sure to select "Accept as Solution" so your fellow community members can be helped by it as well.