How to Expand Your Marketing Team's Capacity (Without Increasing Headcount)

Rushed off your feet, genuinely googling "how can I clone myself?!" and wishing you had Hermione's time-turner; sound familiar? And that's just on a Monday, jeez. You and your team are badass, but you're only human (sorry office dogs!). When you've got a to-do list the length of the Great Wall of China . . . and clients keep requesting things ASAP, you need to do something fast. That doesn't involve running away. Hire someone new? It sounds like a good idea, but you've barely got time to make a coffee, let alone post job ads and interview. What are you going to do?!
Get your socials sorted
What if we said that for less than US$350 per month, you could hire someone to do your social media and they'd generate five times more reach and 700% more engagement. You'd bite my hand off, probably. Here's the deal: AI-powered social marketing automation can do the hard work for you, without breaking the bank bringing on new hires. How does this work? An AI-powered social marketing dashboard can give you 100% visibility across all your social platforms, so you can see what's happening and tweak when you need to. In no time at all, it'll do this:
Write all your social posts
Schedule them at the best times for maximum engagement on every platform
Track the most popular posts and report back to you, the best topics for your next blog, articles, or videos
Transcribe audio or video files and use the transcription to create more social posts
Weeks of mind-numbing work, that your client wants done NOW can be right in front of you before you can say 'I LOVE THIS DARN THING'. AI-powered social marketing automation can even wrangle project management, calendars, analytics, reporting, and more – so you get hours of work done in less than 60 seconds. I mean c'mon, 60 seconds! Back to those socials . . . you can even auto-create dozens of social posts in just a few clicks. It's something that could easily take a few hours for a team member to do. But now they can get busy with other important stuff. Sounds awesome, right?! And there's more – an AI-powered social marketing dashboard can highlight key indicators that provide pointers for better social posting, such as the best times to post on certain platforms, using smart data and AI to tell you.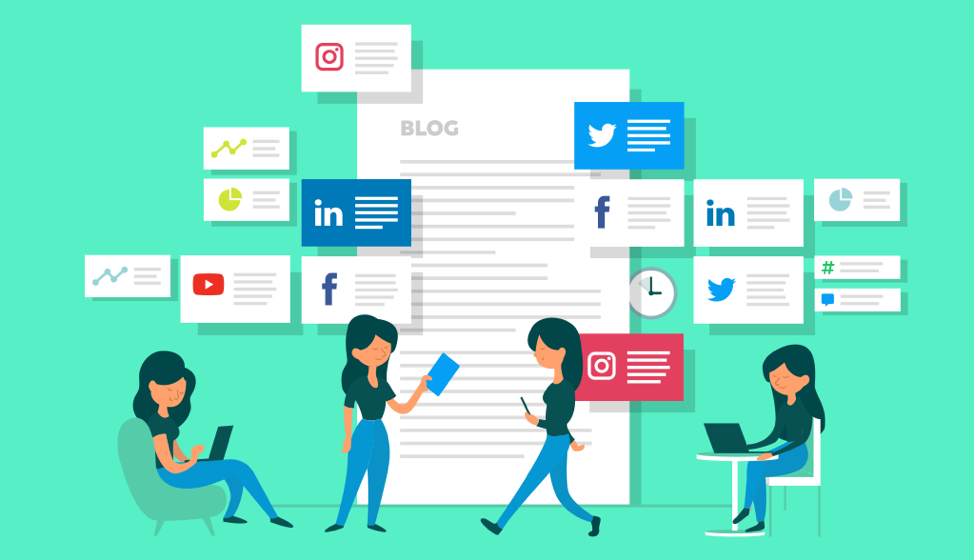 Super clear roles and jobs
One of the worst things that can happen when you're mega busy is that roles can get muddled on your team as everyone is frantically running around like headless chickens! Who's doing what when everything's crazy? "Hey, have you done that super, super critical thing?" . . . *blank face* "Um, no…I thought you were doing it." Chaos ensues. AI-powered social marketing automation gives you the capability to be more accountable for the work you do and the roles assigned to everyone. Freeing up time by doing marketing tasks in seconds means that you're instantly expanding your ability to move forward with loads of other jobs instead. And by aligning your planning, project management, and publishing schedules, nothing's going to fall through the cracks, and your entire team can easily see what needs to be done and when.
Say goodbye to WTFs
Team members can end up spending hours toggling through loads of different software packages, which isn't fun or productive (Zzzzzzzzzzz…). On top of that, half the time, they're probably thinking, am I even going to get anything out of this? What am I doing?! Cue marketing existential crisis! An AI-powered social marketing dashboard can provide the multi-channel analytics to your social data in single, whole-picture graphs that let you click-through data points, see what caused each spike and connect workflow to results. Everyone is moving in the same direction, based on super accurate social reports. A dashboard can completely eliminate the hassle of actually employing an additional social media person (which takes lots of time and money) as well as the uncertainty period, where a new hire is coming to grips with everything and you're not 100% certain everyone's pooling the right info together. In one swoop, AI-powered social marketing automation can supercharge your social media prowess, without hiring new staff.
Lately is currently offering 50% off any social media management dashboard subscription for SAP Business Exchange members – click the link to learn more.
You must be a registered user to add a comment. If you've already registered, sign in. Otherwise, register and sign in.