Possible to edit a Persona Dashboard??
New to Concur & Cognos but willing to try. I wanted to update the Dashboard - Department Manager Spend Overview. There is a field "Employee ID" which is useless for our needs. Wanted to replace it with "Department". Our BI managers have various employees in different dapartments. Is it possible to edit the dashboard with that different field?
Basically I want our BI managers a way to view not just all the employees under their access but rather have the ability to filter/toggle between their various departments.
@Kev959 The short answer to your question is...yes, you can edit this report.
However, this report type is what we call an Active Report. It is a very tricky process to create and edit these reports. So, if you have a lot of Cognos experience and are comfortable with Unions and Joins in Cognos, then you probably wouldn't have any issue replacing Employee ID with Department.
I've provided a screenshot of what this report looks like from the Query Explorer in Cognos. This isn't the entire report and list of unions, joins and queries. So, let me know if this screenshot makes sense to you.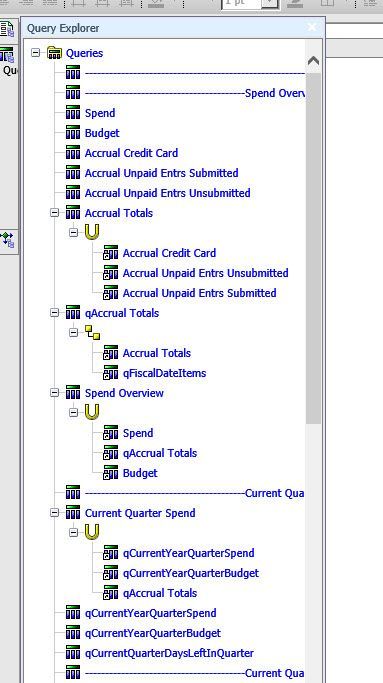 Thank you,
Kevin Dorsey
SAP Concur Community Manager
Did this response answer your question? Be sure to select "Accept as Solution" so your fellow community members can be helped by it as well.