Highlighted
2 Level Pre Trip Approval
Hi Team,
Can someone help me, can we enable 2 level pre trip approval in Concur Travel. If yes, please explain.
What I mean to say is as "
I mean it goes to one manager for approval and then after that manager approves is go to the next level up for approval. For example, Supervisor A approves and then it is sent to Manager A (over both Supervisor A and the traveler) for approval.
Please advise.
Thanks & Regards
Gautam Suri
1 Reply
Highlighted
Re: 2 Level Pre Trip Approval
@gsuri here is some information that should help you.
Reference this document: https://www.concurtraining.com/customers/tech_pubs/TravelDocs/TSGs/Trip_Approval_TSG.pdf
See screenshot below also.
I did reach out to someone on our Travel Training team that did mention that two approvers for pre-trip approval is not recommended unless you are 100% sure both managers will approve the trip within the 24 hour ticketing time limit.
I hope this helps.
Kevin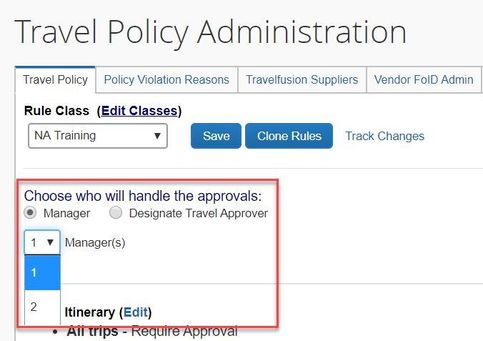 Thanks,
Kevin Dorsey
SAP Concur Sr. Training Consultant
Did this response answer your question?
Be sure to select "Accept as Solution" so your fellow community members can be helped by it as well.